FUTURESPACE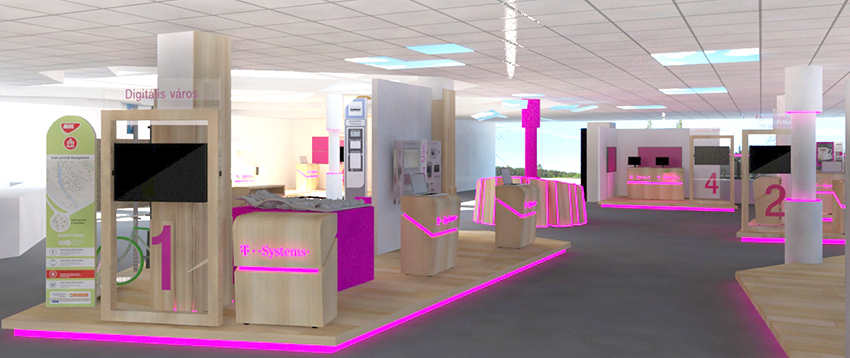 In addition to the digital city solutions, in our exhibition room, the JövőTér (FutureSpace) we provide to our invited guests a comprehensive picture of our supervised and safe IT services as well as company management and business intelligence solutions. Our experts will welcome all interested guests at the stands. These stands in the exhibition space are dedicated to the individual industries in order to present the latest infocommunications development opportunities in the fields of healthcare and finance. Also, we will present the connected car solution through a BMW i8 model, and our guests will also be given the opportunity to personally test the latest innovations for large companies at thematic stands like the Future's Office or the Future's Lottery Shop.
Drive2Save
In the near future the Internet of Things will probably have a serious impact on both the lives of individual users and the operation of companies.
IoT may redistribute the roles in the market. We think that in order to remain dominant in the world of IoT, players in the market will have to learn new capabilities.
In a simplistic way, the term Drive2Save means that there is an extra communication unit installed in our car. This unit is able to maintain live contact with the service provider and the internet. From this point forward, the opportunities virtually are limitless: this solution will make possible a whole lot of things from telemetry through remote diagnostics to system updates.
As a result of the impending revolutionary changes, owing to the machine-to-machine communication, drivers are going to have access to a lot more information about their car and their environment.
Parallel to the penetration of innovative technologies built on machine-to-machine communication, consumers may soon be witnessing radical transformation of the automotive industry and transport. Advanced telematic systems also allow the car owners to insure their vehicles based on the actual use, and to download the latest updates via the internet connection.
Managed and Secured
Which statment describes you the best? Are you somebody who is informed about events in time or somebody who doesn't know anything about the incident even after it happened? Somebody who has already calculated the possible loss caused by half-day idle time or somebody who has already suffered one? Somebody who factors in the necessity of uninterrupted service in the business or somebody who considers supervision and security an unnecessary burden? Somebody who is aware of risks or somebody who rather relies on his luck?
Visit our cocktail bar and our expert colleague will answer all the above questions.
Future Lottery
Szerencsejáték Zrt. has joined forces with T-Systems Hungary to provide its new services to the customers in a transparent manner. The lottery shop is one of the key places where display devices of the latest technology as well as online services play significant roles in meeting the ever-changing requirements. At the stand experts of Szerencsejáték Zrt. and T-Systems will present the technical solutions behind the services that make the games a real experience for the users. Customised, state-of-the-art DMS (Digital Media Signage) solutions will also receive an important role in the showcase.
Communications Solutions
Have you ever experienced the strength of virtual reality? Have you ever driven an excavator and felt that you might as well be on a different continent but still sitting in the driver's seat? At the Communications Solutions stand we will show you the exciting possibilities of the mobile internet network of the future. If you get tired of driving the excavator we will invite you for a coffee right from our network-linked vending machine, and thus you can have a taste of our M2M solutions. At the Communications Solutions stand we will also get you up close and personal with the latest mobile devices available, and also show you security features that are all monitored by T-Systems Hungary's Enterprise Mobility Management solutions.
Next Generation Bank
In today's world, with the development of technology, conventional banking service providers too have to reconsider their role and service channels to be able to meet the changing customer expectations.
Bank customers are busy; they want to administer their banking affairs as simply and efficiently as everything else in their lives, and they only want to go to the branch office when it is absolutely necessary. In a world like this, banks are also expected to provide the opportunity of transferring money with two clicks or to avoid waiting in the bank by being able to remotely draw a number, while taking care of some other business.
Simple, transparent, comprehensible and customer-centric processes and products are of key importance in our fast changing world. Another important factor is to be able to take care of everything, anytime and anywhere around the clock. But what can we arrange online, and when will we always have to go to the branch office?
We think there are complex products requiring the assistance of a consultant, but can video remote banking be a convenient and simple solution for it? Can deep investment or real estate advice be given anywhere in the country without having to assign a specialised banking expert to each branch office?
Can launching queries of interest for simpler products via web, completing application forms even from home environment, providing services to the clients via chat or other online interactions demonstrate that your bank is actually available at any time, and is really customer-centric?
Service management booth
The basic pillar for cloud-based solutions is the establishment of IT infrastructural services. T-Systems Hungary was one of the first companies in Hungary to establish its basic solutions necessary for the provision of cloud services. There is no need to purchase physical servers, no data center infrastructure has to be built, as all this is available in the Budapest T-Systems Cloud & Data Center, so it takes just a few clicks to establish an advanced, customised, well scalable information technology environment. In addition to this, we established our instantICT communication and information technology services keeping in mind specific needs and requirements of the different corporate segments, which services can be used as private and public cloud services. Special emphasis is given to the need to avoid long and time-wasting deployment time. Keeping in mind and in line with business supporting solutions T-Systems Hungary also provides industry-specific services from the cloud. The good solution is simple, fast, scalable, and knows exactly what is needed.
Cloud solutions
The instantDoc is a scalable modular application adapted to the needs and expectations of domestic and international institutional and corporate customers. It can be further developed and updated in a flexible manner. It is fully compliant with Microsoff Office –based office software tools, so it can be incorporated in the information technology environment of the company in a user-friendly way.
The system provides full scope of document management and work process support functionalities for the users (receipt, delivery and acceptance, filing, administration, issuance, dispensing, posting, archiving). The application can flexibly be adapted to the document management rules and processes set forth in the document management regulation.
In our quickly changing world, companies working together with a large number of clients, partners or suppliers need some kind of customer management (CRM) solution to better understand and keep their customers by offering them more personalised and more efficient services. Relying on its significant knowledge of companies and of the sector T-Systems Hungary. developed its highly personalised and scalable MS Dynamic-based full-scale CRM solution, the InstantSales, which is equipped a number of useful functionalities, including campaign management, workflow support and outlook integration.
These solutions have a web-based thin-client user interface, so are also available on a tablet even if the users are in the office, on the road, or abroad.
Mobile Purse
The Mobile Purse is an application, with the help of which credit and loyalty cards kept in the wallet can be collected to a single location and virtually stored on a suitable mobile phone.
This allows simple and secure one-touch payment or collection of loyalty credits, or to upload concert or theatre tickets to the Mobile Purse to ensure that even the entry is a joyful experience.
Currently credit cards issued by OTP Bank and the loyalty card of SuperShop NFC can be integrated int the Mobile Purse, as well as NFC tickets available in the jegy.hu network.
The Mobile Purse application is already available on nearly 50 Android-based smart phones. The application can be downloaded from Google Play Store. For more information visit: telekom.hu/mobiltarca
MEDIQUE
Intelligent patient logistics and resource allocation system in emergency patient management
MedIQue is a patient management system based on uniquely advanced mobile technology even in international comparison.
The essence of the system is that – besides efficiently supporting the work of the medical personnel – it brings significant long-term cost savings for the institution.
With the help of the solution, the Institution can continuously monitor the load on the individual physician groups in real time and, if necessary, may redistribute the medical work among the groups of physicians.
The system also offers a number of services that are useful for the patients. On one hand, they can follow on a screen in the waiting room when it is their turn and in which room they will receive the treatment. On the other hand, patients are also provided the opportunity to receive this information via a smart phone application.
Telekom MiniCRM
MiniCRM is an online solution to up-to-date your customers and make sales simple and more efficient. Store important information about your customers in MiniCRM and automate your work processes.
Available from anywhere on PC, notebook, smartphone and tablet.
TV GO
TV GO is a new entertainment portal where movies, series and TV shows are available for watching, together with related news and critical essays. This service can be accessed anywhere, anytime, using any registered device: notebook, tablet, smart phone or smart TV.
SPYMOZ
Spymoz is a system to monitor the market and competitors. Based on the competitors it assembles a strategy to "beat" the competition.
WYZE
Wyze.me is a simple, free of charge application that helps regain financial self-confidence. It gives a full picture of the client's financial affairs by collecting the data of several online accounts (for example bank accounts, health funds, savings accounts) and the client's cash transactions. The application automatically categorises financial transactions, recurring expenses and one-time cash spending.
Webkönnyen
JUST A LITTLE MORE THAN TWO CLICKS AND YOUR BUSINESS IS AVAILABLE ONLINE
This application helps you prepare a professional webpage or webshop for your business quickly and easily. You can design or change the structure of thematic templates as you like and you can rapidly change the content at any time. The package offers a webpage managing platform; a domain transfer or forwarding and storage place. You can make your own Facebook profile for your business. You can choose from basic business, Pro or webshop editor packages.
Seniguard
The emergency pager and the remote supervision service linked to it are intended to serve the safety of human life. The device can alert relatives or the dispatching centre where trained professionals are available, and which can also send an ambulance to the scene if necessary, at the push of a button.
E-Access
Winner of the "Best International IoT Solution" award at Deutsche Telekom's international Business Wall of Fame contest. The e-Access system was created by tuning access control systems, wireless technology, and state-of-the-art data protection procedures to function together.
This solution makes it possible to interconnect an unlimited number of sites, and manage them in a standard system.
Additionally, the solution can be used not only in conventional office buildings, but also for motor vehicles (e.g. trucks) or other distant and remote locations (e.g. farms), where no fixed-line network infrastructure is available.
The cloud system communicates over the mobile network, and users can access its interface by mobile and tablet devices alike. During the system's online operation, it provides real-time information about all devices integrated with it, and their status.
Medistance
With the help of the Medistance service, you can continuously monitor your loved ones' blood pressure and blood sugar level values from anywhere in the country. After measurement, blood pressure and blood sugar values are transferred to a web healthcare log using mobile connectivity, and family and relatives or attending physicians can monitor measured values (blood pressure, blood sugar, cholesterol, triglyceride, ECG) without actually needing to be present in person.
Measured and collected data can be viewed using a web interface.